The Cave
Oscar nominee Feras Fayyad ("Last Men in Aleppo") delivers an unflinching story of the Syrian war with his powerful new documentary, The Cave. For besieged civilians, hope and safety lie underground inside the subterranean hospital known as the Cave, where pediatrician and managing physician Dr. Amani Ballour and her colleagues Samaher and Dr. Alaa have claimed their right to work as equals alongside their male counterparts, doing their jobs in a way that would be unthinkable in the oppressively patriarchal culture that exists above. Following the women as they contend with daily bombardments, chronic supply shortages and the ever-present threat of chemical attacks, The Cave paints a stirring portrait of courage, resilience and female solidarity.
Rated: PG-13
Release Date: October 18, 2019

Dr. Amani Ballour

FILM SUBJECT

A natural leader and problem solver, Dr. Amani Ballour was only 29 when her colleagues elected her to oversee the Cave in 2016. As director, Dr. Amani contended with the grave realities specific to running a hospital under siege conditions: finding solutions to equipment and medicine shortages; protecting the structure itself by adding aboveground and underground fortifications; and, above all, ensuring the safety of patients and staff. Meanwhile, she continued to work as a pediatrician, tending to the constant stream of sick and injured children who needed treatment. She also assisted in surgery.

Dr. Amani is a compassionate and reassuring figure to the infants and children she treats, and to their parents. She fights back against the patriarchal conservatism that designates women as weak and inferior to men, and is staunchly committed to standing up for women's rights to live and work as they choose. She lives her beliefs, too, whether she's encouraging little girls to see themselves as important and capable, or offering jobs to civilian women who need a means of income.

Dr. Amani was born and raised in Eastern Al Ghouta and completed her general medical studies at the University of Damascus in 2012. She began studying for her specialty in pediatrics but abandoned her studies to help the people of Al Ghouta, who were coming under attack from the Assad regime. She began treating children — particularly those who were injured under bombardment in remote areas of the province — in emergency rooms. She began working at the Cave in 2013.

The 2013 chemical attack on Al Ghouta altered Dr. Amani's life and perspective as she worked in rescue and relief operations. She kept detailed journals about the attack and the days that followed, and wrote and blogged about the attack's impact on people and the environment. She was forcibly displaced to northern Syria in 2018 and currently lives in Turkey.

Samaher

FILM SUBJECT

Lively, funny and warm, nurse Samaher is the Cave's mother hen. She's also a hard worker who knows how to stand up for herself. She sustained a head injury in one of the attacks on the Cave; as a result, she suffers from partial amnesia. She generally makes light of her condition with her colleagues but remains deeply fearful of another attack.

Samaher studied and received several trainings in professional nursing before the start of the Syrian conflict. At the beginning of the uprising in 2011, she and her sister assisted in rescuing injured protestors. When the regime started targeting medical professionals, her pro-Assad brother-in-law reported his wife, Samaher's sister, to the authorities. Samaher and her husband left for Jordan in 2012 to avoid arrest. But with rising numbers of severely injured Syrians arriving in Jordan, Samaher felt a responsibility to contribute to relief efforts. She returned to Syria in 2013 and began working at the Cave.

Dr. Salim Namour

FILM SUBJECT

Dr. Salim Namour is the oldest doctor working at the Cave, as well as the most experienced. In the early days of the 2011 uprising, he adopted a pseudonym, Sakhr, which means "rock." And he is very much the rock his colleagues can always count on: calm, supportive, loyal. He is a good friend and adviser to Dr. Amani, he and makes it clear to everyone that he respects and believes in her. He also works closely with Samaher as he performs the most difficult surgeries at the Cave, always with classical music playing on his mobile phone.

Dr. Salim is a general surgeon and previously volunteered in the medical rescue and relief of civilian victims of the Iraq war as well as the Lebanese-Israeli war in 2006. When the uprising in Syria began in 2011, he treated injured protestors and adopted the pseudonym Sakhr to avoid being identified by the Assad regime and its supporters. He was one of the most active doctors in Al Ghouta after the 2013 chemical weapons attack. He provided testimony to the United Nations and human rights organizations that investigated the attacks. The siege of Eastern Al Ghouta separated him from his wife and four children, who were living in regime-controlled Damascus.

Dr. Alaa

FILM SUBJECT

Quiet and shy, Dr. Alaa is dedicated to her work. She completed her medical studies at the University of Damascus and was studying for her specialty in pediatrics when the uprising began in 2011. She was forced to abandon her studies when the regime took over university medical centers. She volunteered at field hospitals and treated injured protestors. Dr. Alaa was working in Al Ghouta when it came under siege and went to work with Dr. Amani and Samaher after the Cave was established. She continued her studies in pediatrics on her own to complete her specialization. She is currently living and working in the northern region of Syria which is under Turkish protection.

"The Cave is one of the most necessary films of the year. As events unfold in the news, it is also perhaps the most timely."
THE DAILY BEAST
"I've rarely seen a more inspiring figure in a movie."
CHRISTIAN SCIENCE MONITOR
"It's a beautifully shot documentary that's as stunning as the images are harrowing."
ROGEREBERT.COM
"A moving, beautifully humanistic story whose inevitable hardships are laced with real hope and levity."
ENTERTAINMENT WEEKLY
"A compelling picture of compassion, grit, and feminist righteousness."
THE WRAP
"Miraculous...A standout. Feras Fayyad's powerful portrait audaciously puts women's imperative contribution to survival front and center."
VARIETY
"Emotionally moving... extraordinary visual grace... both intensely real and a carefully wrought work of cinema."
THE HOLLYWOOD REPORTER
"Look no further than The Cave for a portrait of true heroism. Provides astonishingly immediate and gripping footage of the collective effort to survive. The Cave ranks among the best of films to portray the tragedy of the Civil War in Syria and the resilience of the everyday people who keep the spirit of the nation alive"
POV
"Gripping. Unprecedented. A real-time thriller...Fayyas excels at finding small moments that take on poetic resonance."
INDIEWIRE
"Gripping. It will stick with you long after you leave the theater. It is as moving as it is possible for a film to be."
FILM THREAT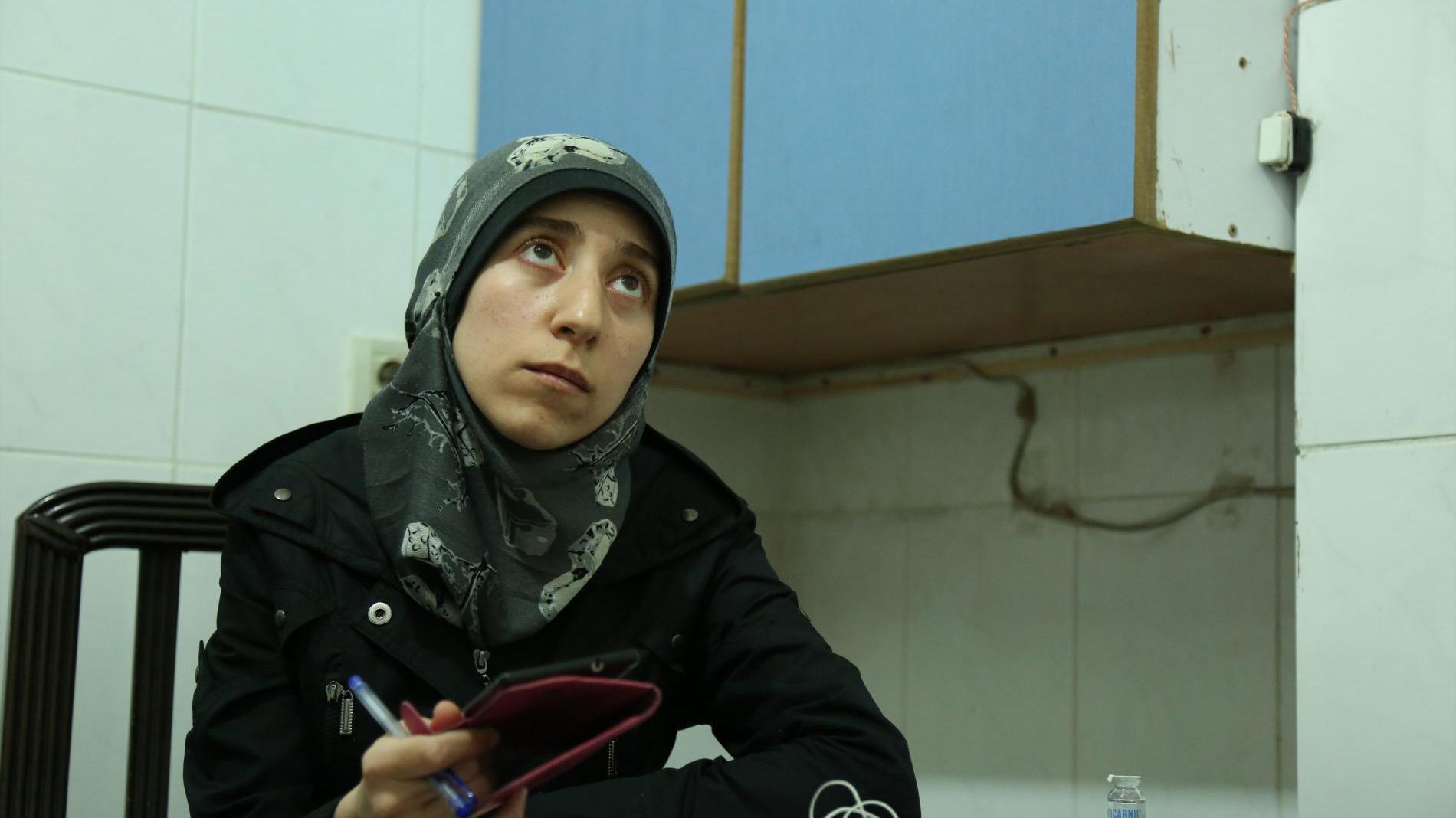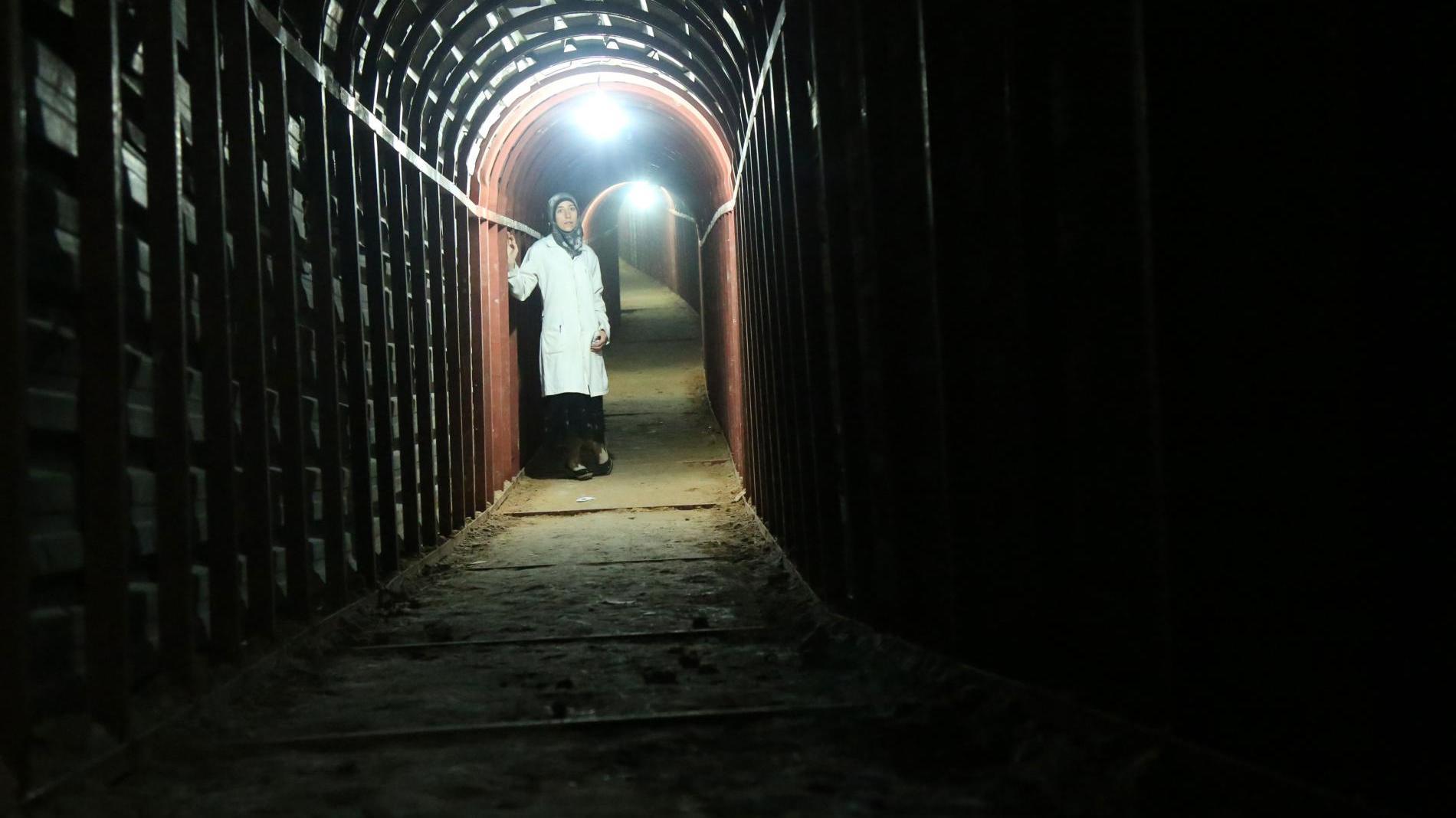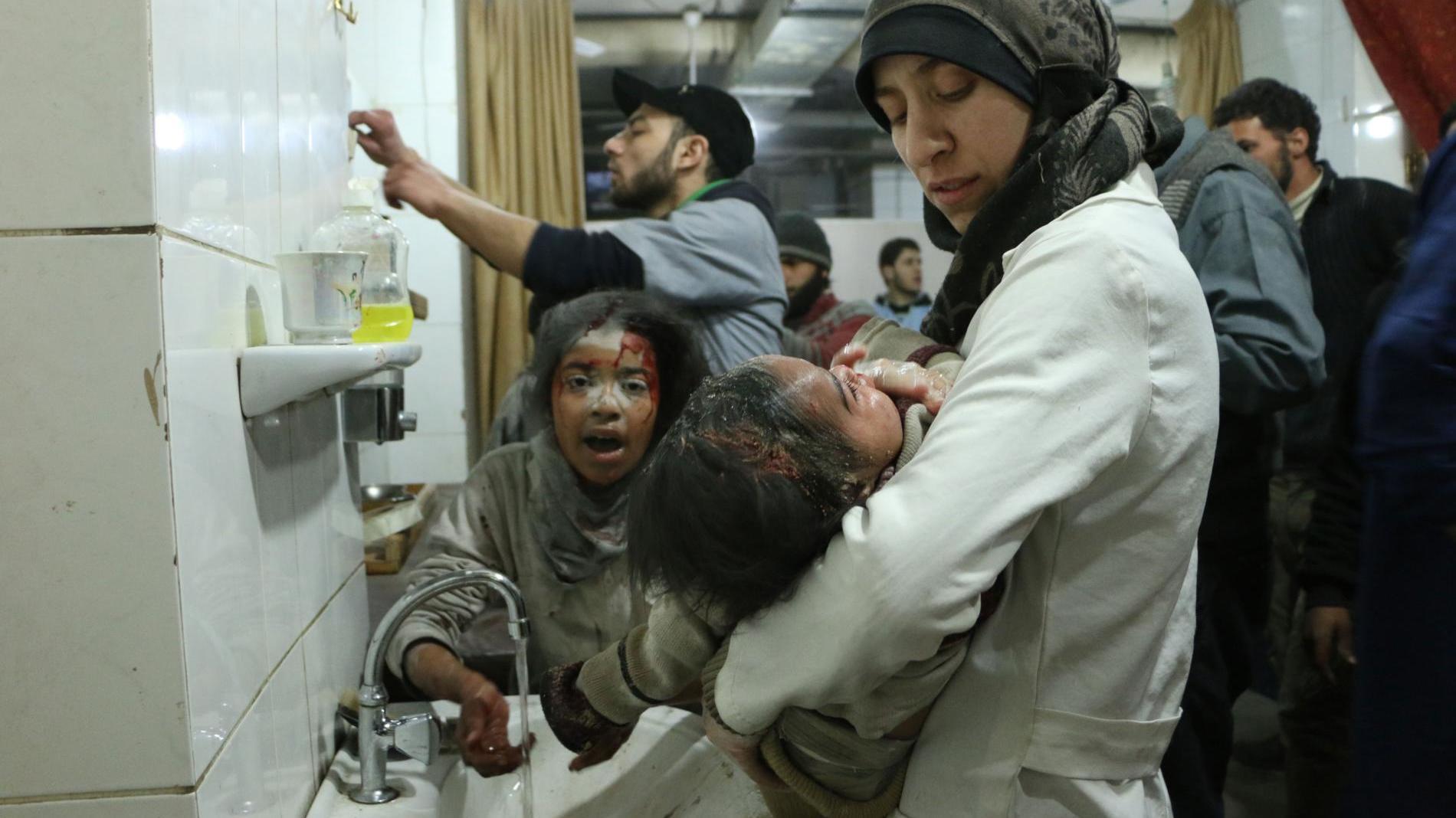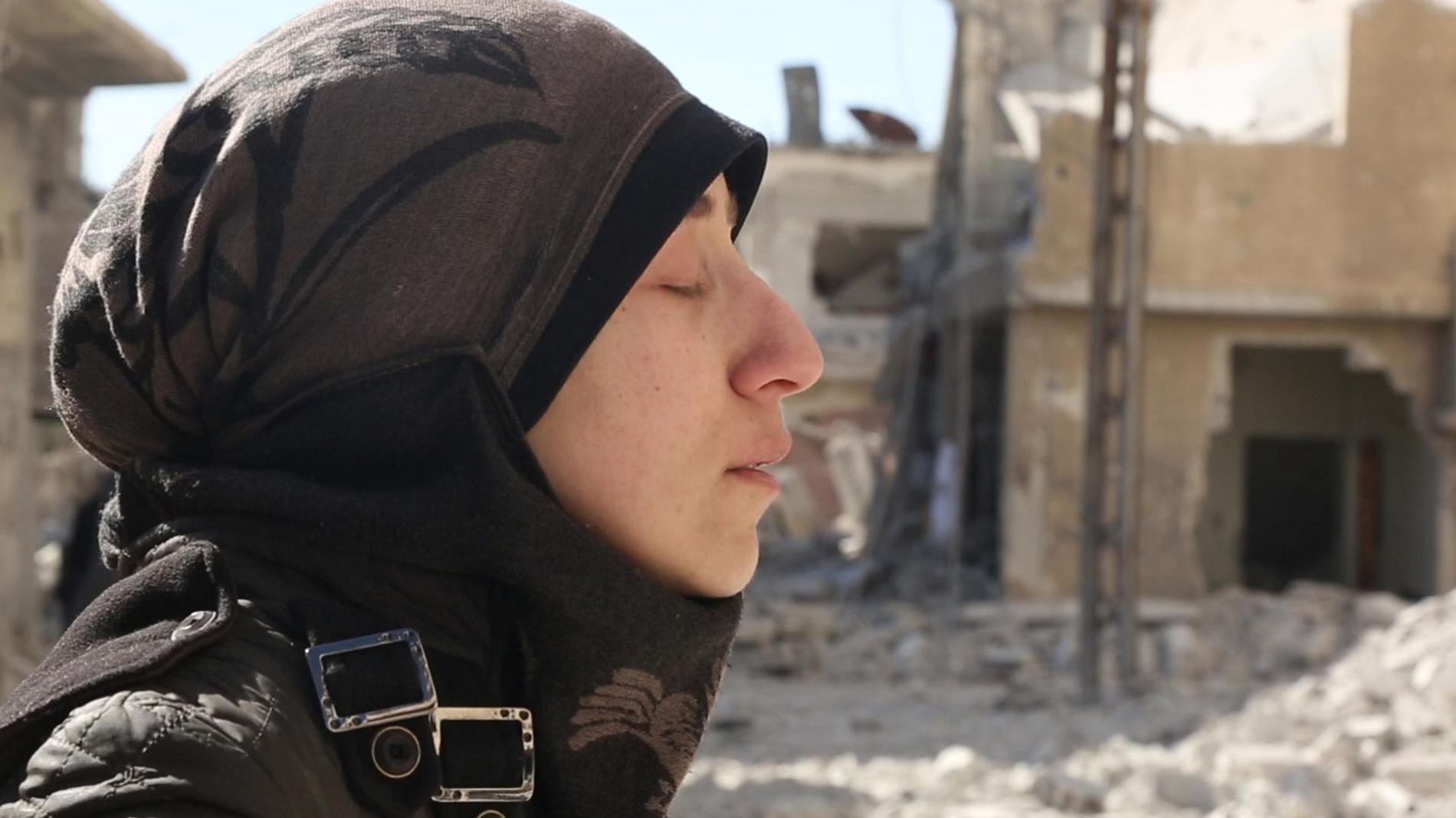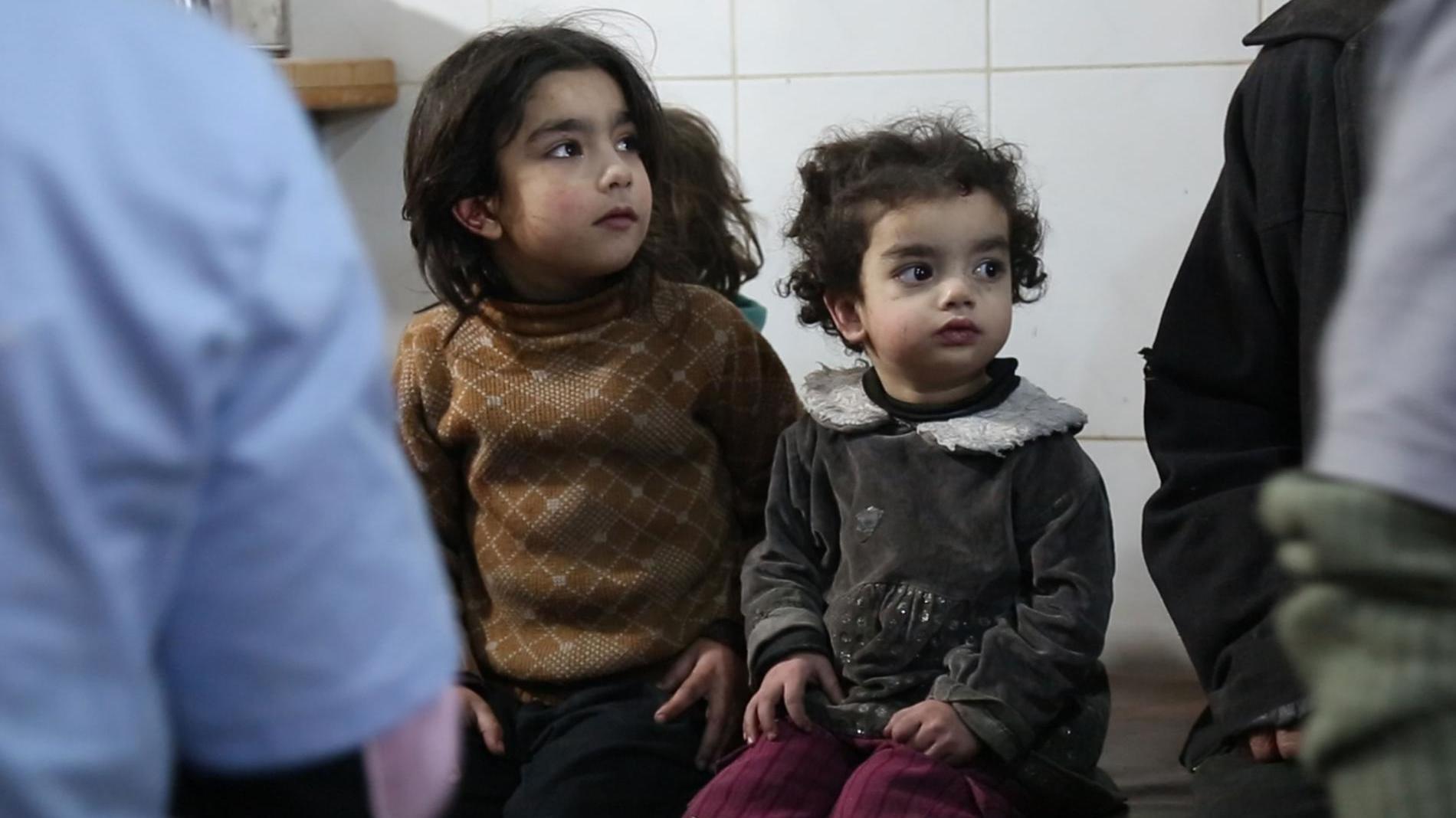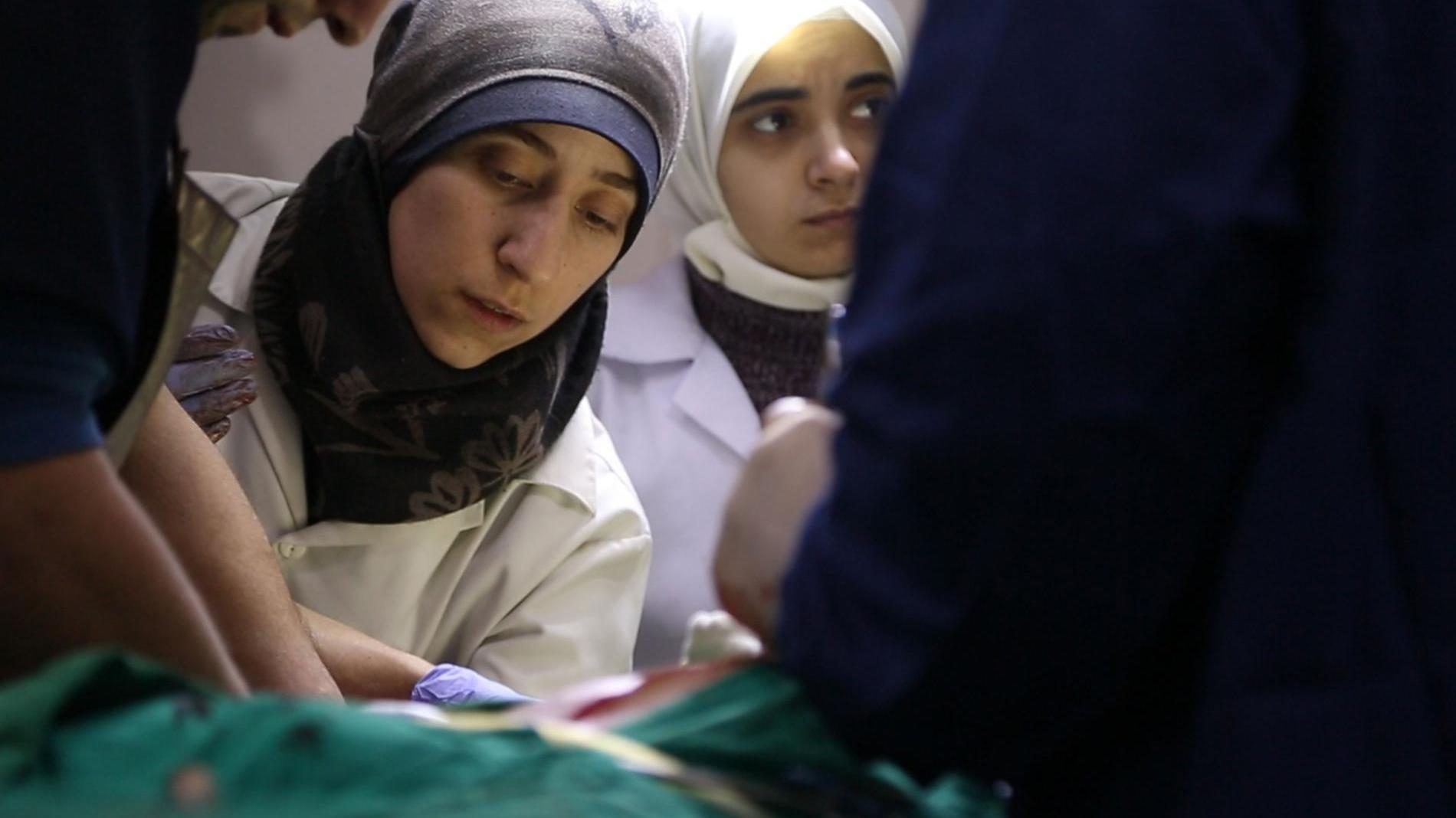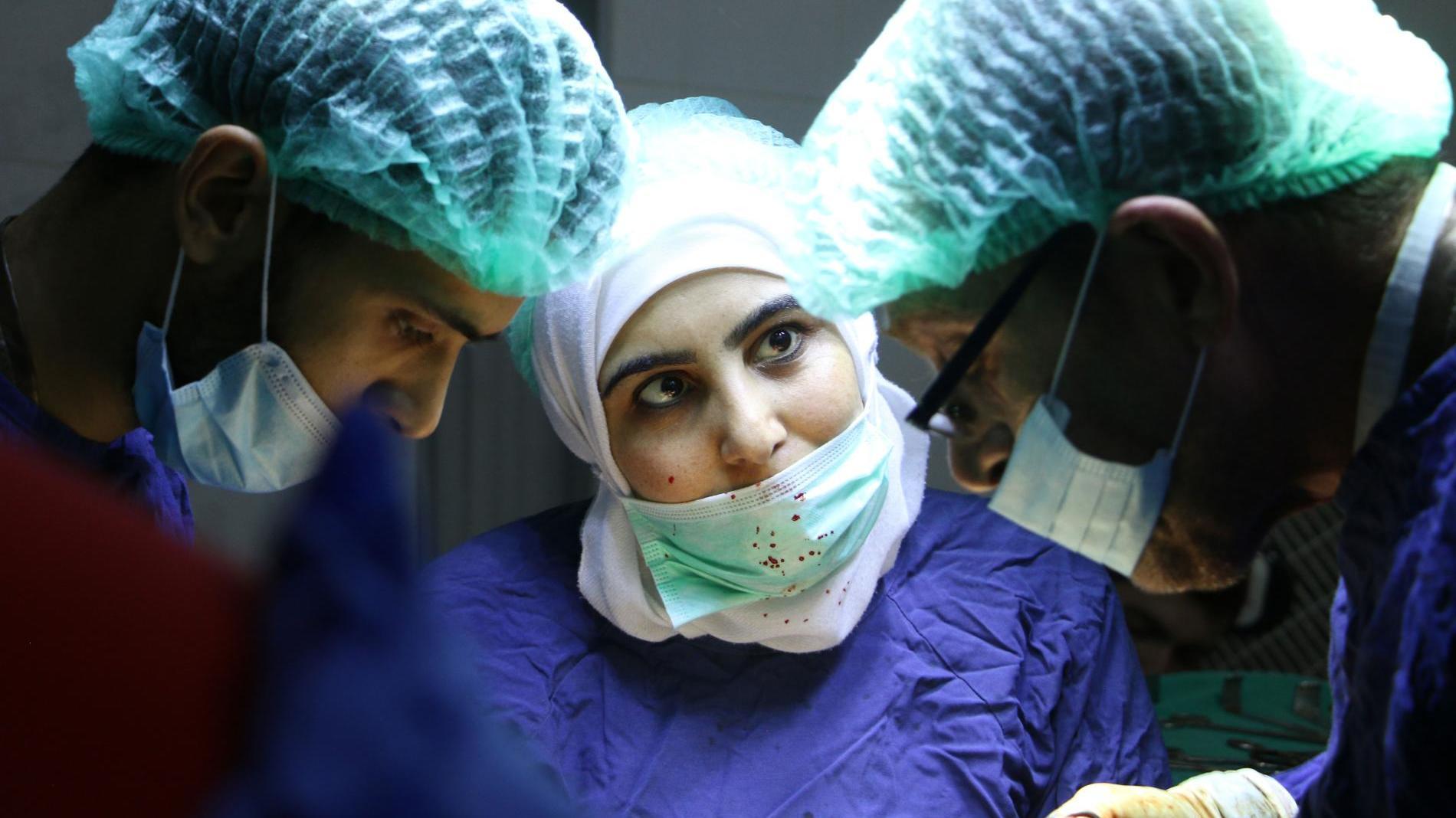 NOW STREAMING



DOWNLOAD TO OWN



On Demand through
Cable Providers

BUY THE DVD

NOW STREAMING
On Demand Through Cable Providers
DOWNLOAD TO OWN
BUY THE DVD
How can you help create lasting and meaningful change?

#StandWithDrAmani
READ DR. AMANI'S PLEA FOR HELP 

Dr. Amani shares her personal account of the ongoing human rights abuses in Syria.
DOWNLOAD A FREE DISCUSSION GUIDE

Use this custom-developed Discussion Guide to help your students or community group engage in meaningful dialog around the topics featured in the film. Additional resources support deeper learning, and help further the conversation beyond the classroom or screening room setting.
LEARN ABOUT THE AL AMAL "HOPE" FUND

Dr. Amani's story illuminates the unthinkable working conditions and heroism of Syrian medical workers. It is the hope of the film's director Feras Fayyad, that "The Cave" will urge the global community to develop mechanisms that protect medical workers and sustain health care in Syria. Through the efforts of Danish Documentary and Think-Film Impact Production, the King Baudouin Foundation has launched the "Al Amal" (Hope) Fund. This fund aims to equip Dr. Amani with the support and tools required to aid Women's empowerment, female leadership in conflict zones, improved and safer access to medicines as well as help educate and mentor young children in Syria. For more information, please visit the Al Amal Fund.
SIGN THE PETITION FOR TRUTH

The general public cannot become numb to the human rights atrocities occurring in conflict zones around the world. The personal journey of Dr. Amani and her fellow doctors in "The Cave" showcases the need to champion those unknown defenders of human rights. The Petition for Truth sheds light on the ongoing truth of violence faced by innocent victims on the ground in Syria. This petition recognizes the unwavering efforts of female humanitarian/health workers and calls for investment and access to medicines through development policies and the basic right to life. Sign the Petition for Truth and #StandWithDrAmani.
VISIT THESE ORGANIZATIONS FOR MORE INFORMATION AND RESOURCES
Directed by Feras Fayyad
Produced by Kirstine Barfod
Produced by Sigrid Dyekjær
Written by Alisar Hasan, Feras Fayyad
Cinematography by Muhammed Khair Al Shami, Ammar Suleiman, Mohammed Eyad
Edited by Per K. Kirkegaard, Denniz Göl Bertelsen
Music by Matthew Herbert
Supervising Sound Editor and Sound Designer Peter Albrechtsen, MPSE
Re-recording Mixers Lars Ginzel, Tim Nielsen
Executive Producer Carolyn Bernstein
Executive Producer Ryan Harrington
Executive Producer Matt Renner